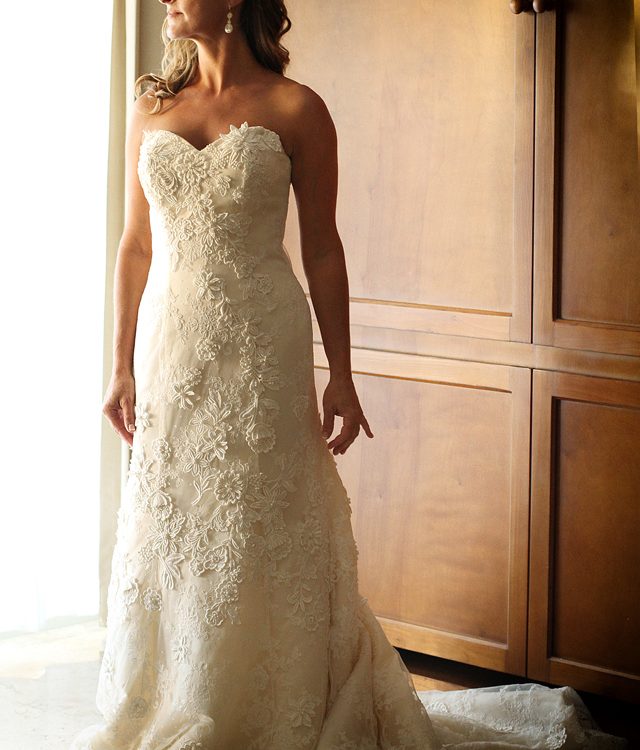 – Describe where you got married : We were married at Villa del Arco Resort and Spa, Los Cabos, Mexico! We wanted a warm outdoor wedding with a view of the ocean, and this place is incredible –  It's always warm, always sunny, and never humid!
– What was your vision for your wedding? Intimate, classy and surrounded by nature.
– Where did you hold your wedding (gazebo, beach, historic fort, etc.)? The wedding was on the beach, just a few steps from the ocean.
– What time was your wedding (either a specific time or general time of day like sunset)? 6pm, so that our first dance was at sunset.
– Describe what happened at your ceremony. We had a candle ceremony, a hand blessing, our vow and ring exchange and finally our "I do's.
– Best memory of the wedding: I remember my two sons walking me down the aisle.
– Best advice to future brides and grooms of destination weddings: If you can, try to schedule a visit to your destination where you can meet,interview,audition any vendor you might want to participate in your ceremony and reception, all at once.
Wedding Venue: Villa del Arco Beach, Resort & Spa, Los Cabos, Mexico (http://www.villagroupresorts.com/resorts/villa-del-arco)
Reception Venue: El Faro Restaurant, Los Cabos, Mexico (http://www.villagroupresorts.com/resorts/villa-del-arco)
Wedding Coordination: Lizbeth Lopez, Wedding Coordinator at Villa del Arco Beach, Resort & Spa, Los Cabos, Mexico
Wedding Photography: Irela García Photography from PHOTOSTYLEINCABO (https://irelagarciaphotography.com)
Second Photographer: Claudia G. Lozano
Officiant: Diego Vidal (www.loscabosminister.com)
Bakery/Dessert Preparation: Villa del Arco Beach, Resort & Spa, Los Cabos, Mexico (http://www.villagroupresorts.com/resorts/villa-del-arco)